Flooring in a house can make a home look amazing, or look like it needs updating. Choosing flooring can be a timely process unless you know what type you want. A lot of homeowners choose prefinished hardwood floors. This type of flooring is just as nice as hardwoods, but cheaper and lasts a long time. How to clean prefinished hardwood floors? You will want to dust weekly, wet mop monthly, and polish to avoid streaks.
Let's take a look at how to keep these floors clean.
What Is Prefinished Hardwood?
As mentioned above, prefinished hardwood flooring looks just as nice as hardwood flooring, but it is cheaper. They are boards that are finished in the factory and have a polyurethane coating applied before it is sent to the stores to be sold.
Once this coating is applied, an acrylic finish is created by baking an aluminum oxide substance on it. A beveled edge forms on the sides since each board is treated separately. When it is time for installation, the boards are cut and nailed to the subfloor. Additionally, there are grooves between the boards so there are separation lines that are visible between them.
Let's look at how to clean prefinished hardwood floors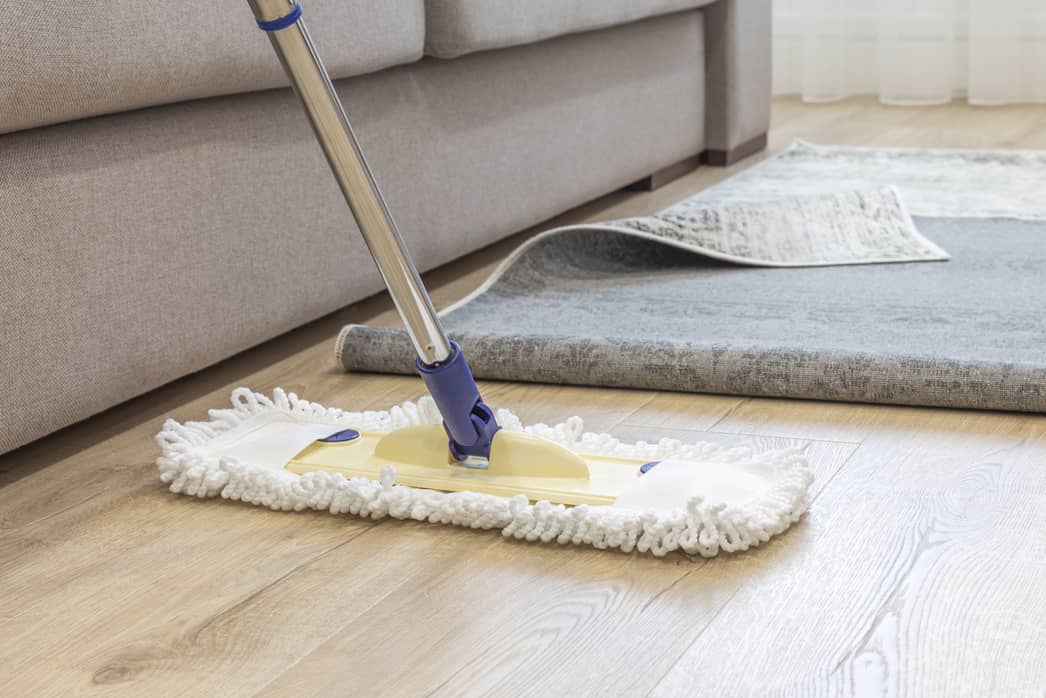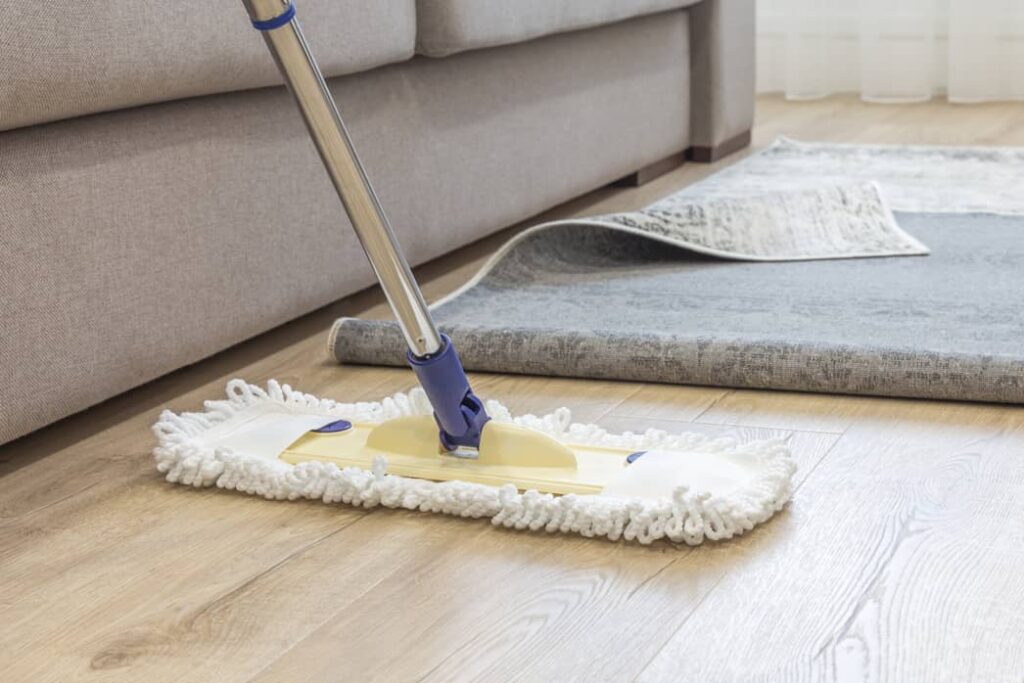 How To Take Care Of Prefinished Hardwood Floors
Dust – Weekly
One of the ways to clean and maintain prefinished hardwood floors is by dusting your flooring weekly. Doing this lets you eliminate loose dust, dirt, and debris. Taking this step each week will make sure that you prevent scratching and that the particles are not ground into the hardwood. The best way to do this is to use a broom that has a natural bristle brush. This is because a hard bristle brush can scratch the floors, but soft bristles will be better on the floor.
If you dust mop, use microfiber over that dust mop. The microfiber has a positive charge and works like a magnet picking up the negatively charged dust. Another option is using a vacuum cleaner. This needs to have a soft brush made for hard floors. It is better than abrasive types such as a beater bar.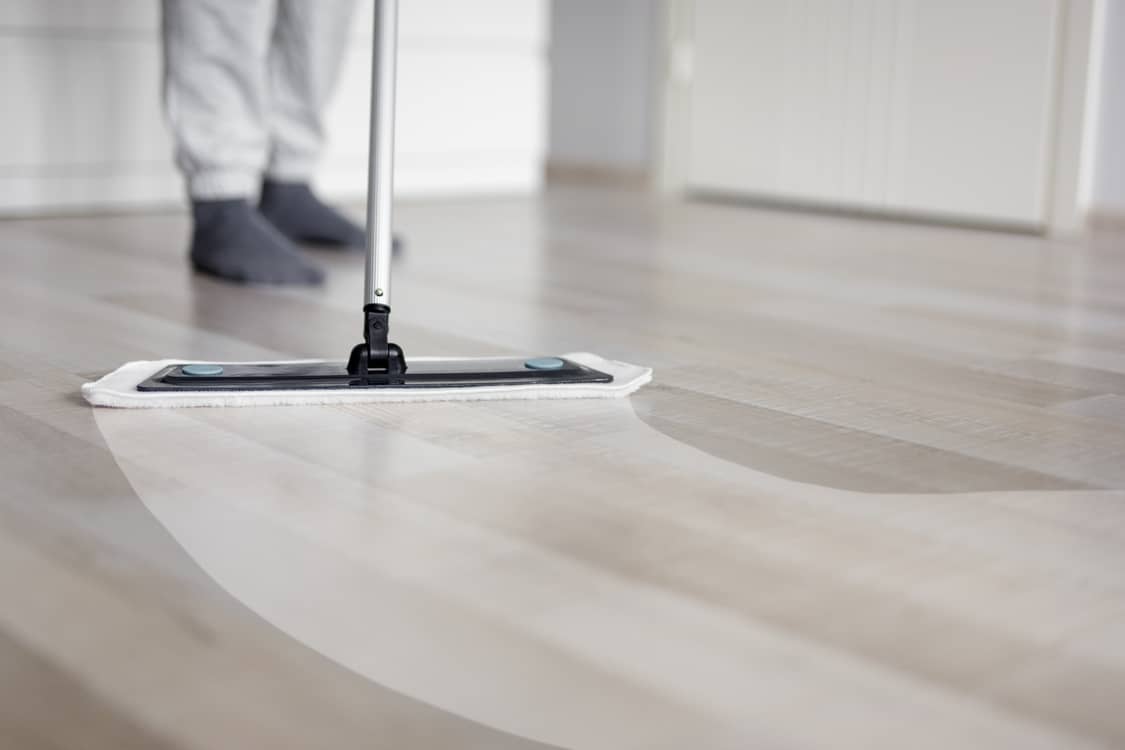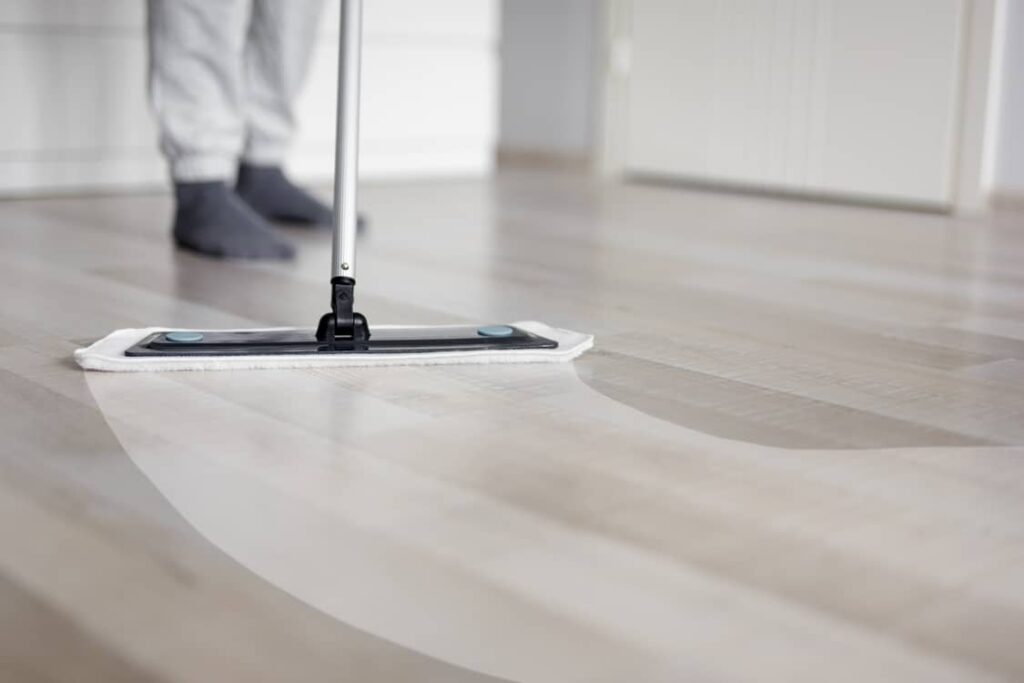 Wet Mop – Monthly
If you are looking for a deeper cleaning for your floors, using a wet mop each month is the way to go. This will get the dirt and debris that is stuck on your floor off and make you a happy homeowner! However, there are some things to remember about wet mopping.
Soaking the floors will damage them and leave streaks.
Cleaners need to be ones that are recommended by the manufacturer of the floors.
Use a method for mopping called "leading edge cleaning." This is walking backward through a room with a mop and going side to side. Then, you twist the handle of the mop into a figure-eight motion.
If you decide to do the motion above, a damp microfiber mop is the way to go as it picks up and removes dirt and you don't have to use a lot of soap. Microfiber mops are easy to rinse and wring out as this material is very porous. This will allow you to use less water. It is also a lightweight mop and you can clean your floors faster and with fewer streaks.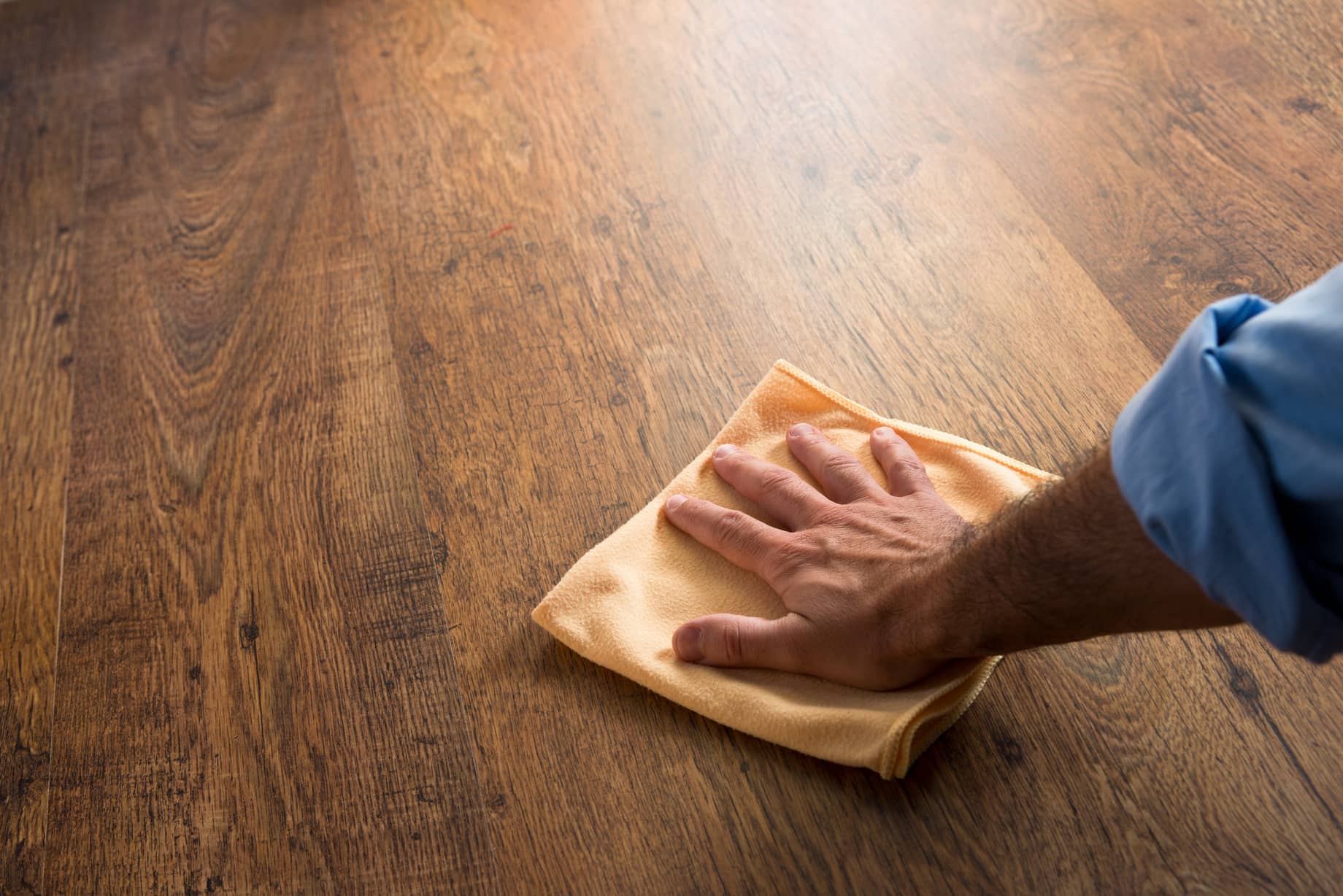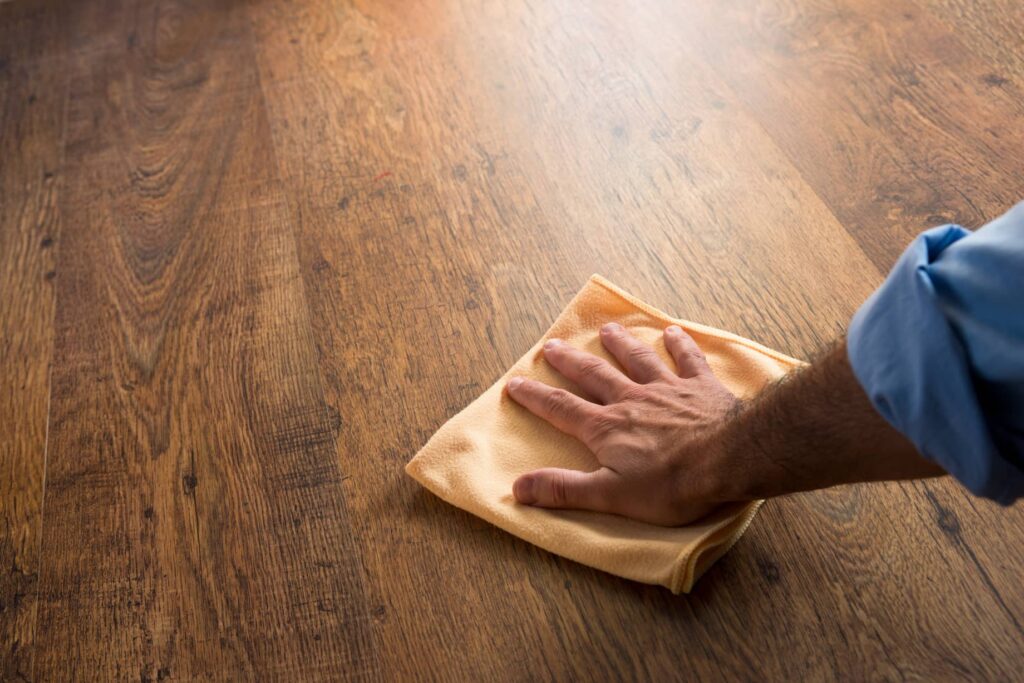 Polishing The Floor
If you mop the floor, you may notice some streaks, but there are some things you can do to make sure this doesn't happen. Work in small areas so you don't get dirty water drying into the floors. Also, use less soap. Lastly, cleaning the mop and wringing it out regularly is a good idea, as well as making sure the water is clean.
If you do these things and still have streaks, a microfiber cloth can be used. By using it as a buff, you can get the residue out. If you decide to use a polish, use one recommended by the manufacturer of the floors.
Other Recommended Maintenance
Now that you know about cleaning prefinished hardwood floors, let's look at a few other maintenance areas. One of those is cleaning the carpet on the stairs. Many homes with stairs have carpet on them, especially if small children and pets are in the home. It can be a pain to clean them, but the best way is with a vacuum and carpet cleaner.
Next, you may find that you want to regrout tile without removing old grout. This is a much easier process and can be done. In order to do this, you will need to gather the necessary supplies and follow the steps to do it. If it will be too much work, reach out to a professional for help.
Lastly, you may find that your carpet is wet and you want to know how long it takes to dry. Well, it will depend on what caused it to get wet, the type of carpet, and also the moisture in the air. Hopefully, it is something you can take care of on your own.
When Do I Call A Professional?
Call a professional if you are having a hard time with your floors. It could be that they are buckling, or lifting up. Additionally, you may have a hard time getting stains out of them or other issues. A professional can help figure out a remedy for these and get you back to living in your happy home. You can always call the number for the manufacturer of the floor for advice. However, if it is a major issue, you shouldn't try to take it on yourself.
Conclusion
Keeping prefinished hardwood floors clean is not difficult, but does take some effort. It may be a good idea to set up a schedule for when and how to clean the floors. Also, if you are having problems with the structure of the floor, or other things, it may be time to call your local home inspection company. A home inspection may be what you need so you know that everything is good in the home. Reach out to Edifice Inspections in Peachtree Corners, GA for a full home inspection.