When it comes to owning a home there are a lot of projects that homeowners like to tackle on their own. In many cases, homeowners have the tools and the patience to save money on larger projects. Keep in mind that it isn't always recommended to tackle a project like gutter installation on your own. Calling on a professional gutter installation company is likely the best solution. However, if you would like to install your gutters, you will need how to cut them. Are you trying to figure out how to cut gutters? Measuring the proper lengths and using the proper tools while the gutters are on your cutting table is a great start.
Let's take a look below at what types of tools you will need to cut the gutters.
What Are The Recommended Tools And Materials?
Projects like cutting gutters need the right materials and cutting tools. Let's take a look below at what is required to accomplish this project.
Protective long-sleeved clothing
Marking pencil
Tin Snips (not recommended to cut aluminum gutters)
Fine-tooth file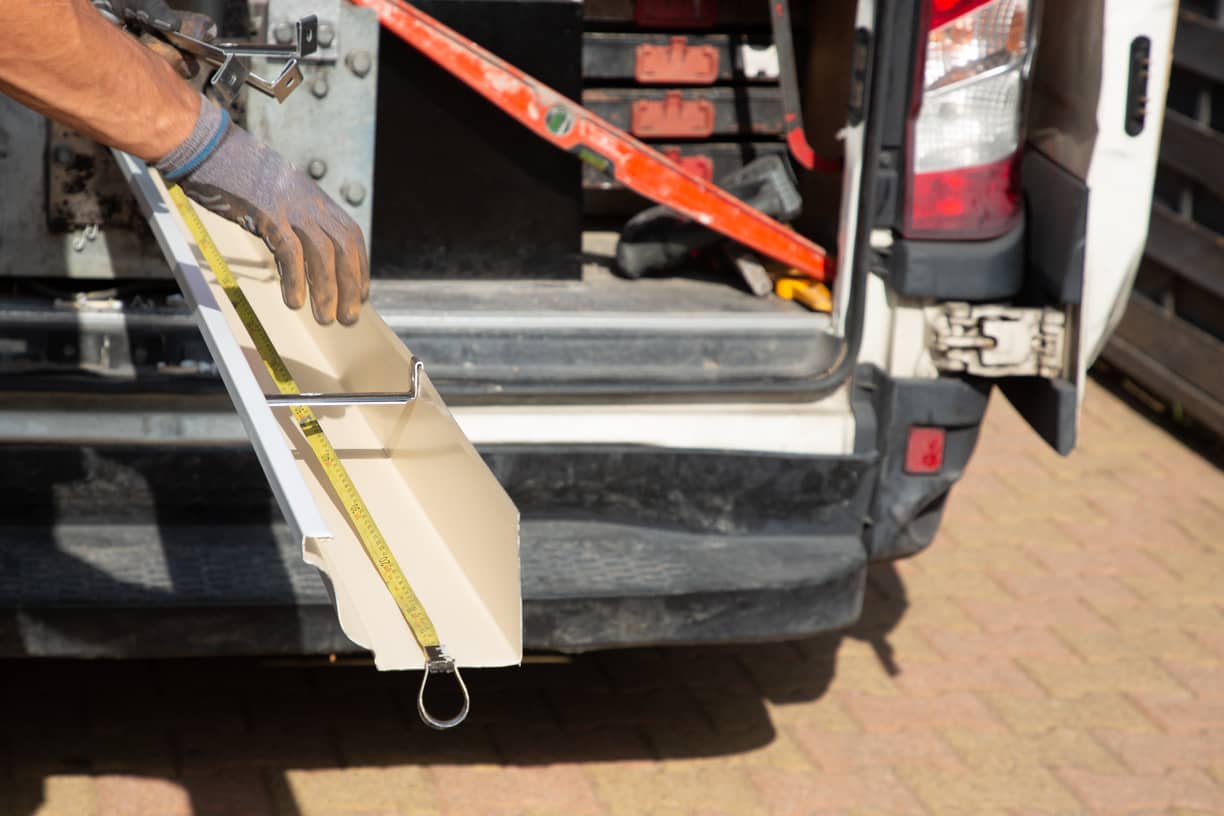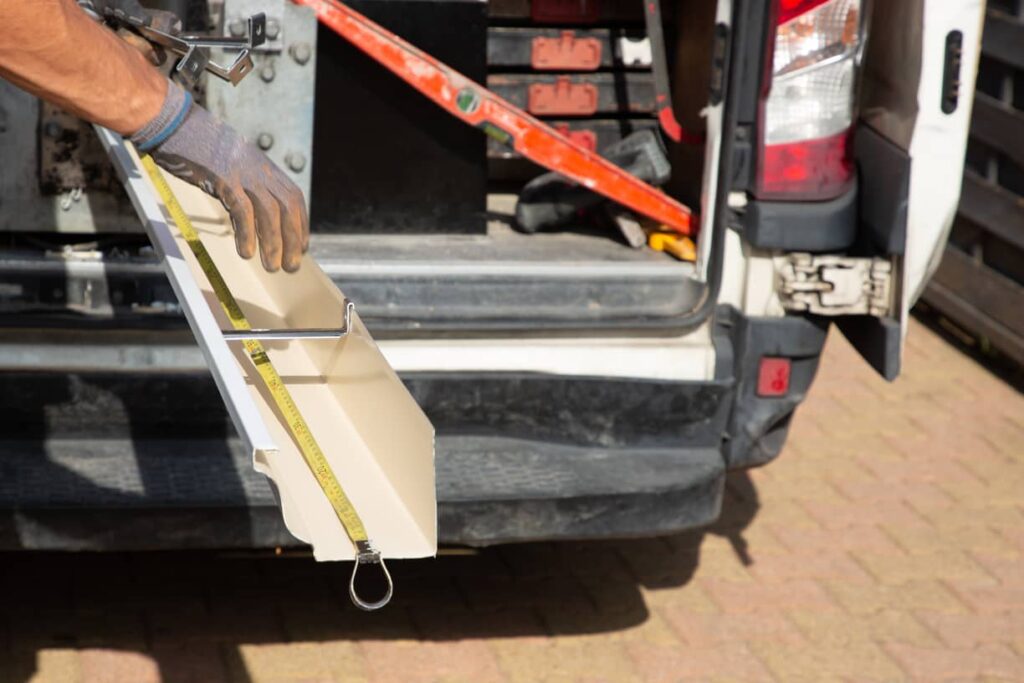 What Are The Steps?
Any time that you are looking to complete a project at your home, there are highly suggested steps for success. If cutting gutters is a do-it-yourself project that you would like to tackle, be sure to follow the steps below.
Create a workspace in your garage or a flat area in your yard.
Place a section of gutter that you will be cutting upside down on a flat table.
Measure the gutter to the length that you need. Take a pencil and mark the bottom of the gutter.
Take your combination square and use the edge to extend the pencil mark to both sides of the gutter.
Flip the gutter back over. This will allow you to securely hold down one side while you cut.
Use your pattern shears or metal snips and start your cuts on an outer flange edge.
Be sure to pace yourself so that you do not accidentally bend or crinkle the metal gutter.
Continue cutting all the way around, until you reach the bottom of the gutter.
Switch to the other side of the gutter and cut down the line the same way that you cut the other side. Cut all the way down to the bottom of the gutter.
Slightly bend the gutter away from each side so that the bottom is now exposed.
Now cut across the bottom of the gutter for separation.
Use your file to shave down any sharp edges.
Repeat these steps for each section of the gutter that needs to be cut.
Other Recommended Maintenance
Now that you understand how to cut your gutters, you can also read up on how to cut a metal roof. You might want to install a new metal roof before installing metal gutters to match. Reading up on these steps might provide some insight into combining both projects.
Next, after you have installed your gutters, you will want to read up on how to clean them. In some cases, homeowners are not capable of climbing a ladder to get on their roofs and clean a gutter system. Learning about the best ways to clean your gutters without a ladder is a good idea.
Lastly, getting a roofing inspection completed during a complete home inspection is key. Be sure to hire a local home inspection team that values using thermal imaging. Thermal imaging allows them to see leaks and other damage before you go installing a new gutter system.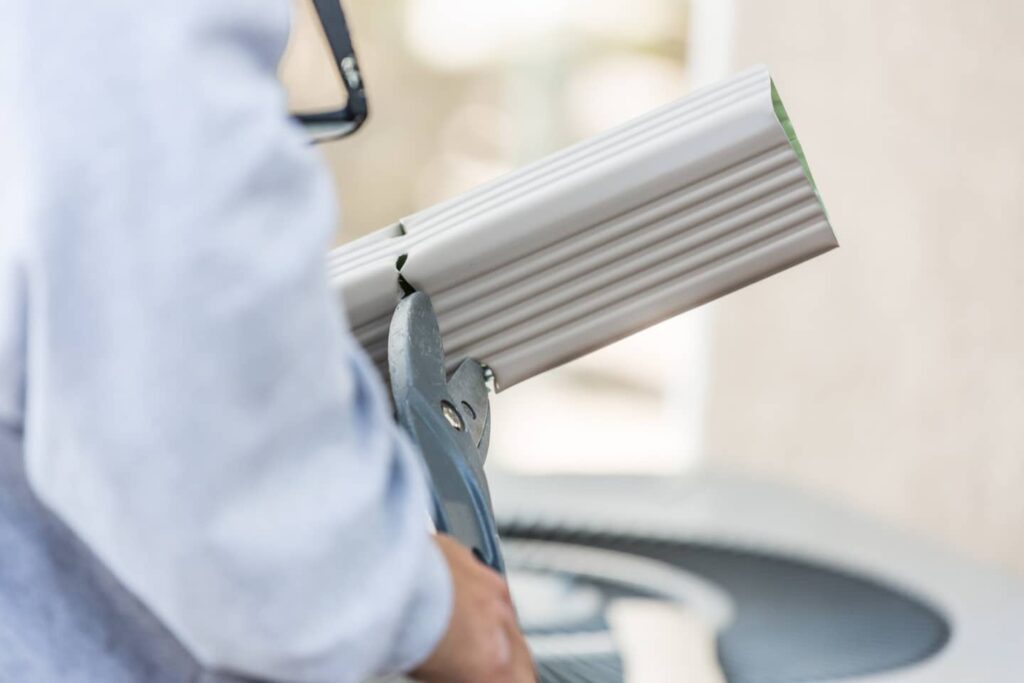 When Do I Call A Professional?
Cutting your metal gutters requires time, patience, and a lot of strength. Having the proper tools is necessary for the successful completion of this project. Call your local home inspection team to inspect your roof. Consequently, this will ensure that your roof is capable of supporting your new gutter system. Also, if you aren't sure about this project, call on a professional gutter installation team.
Conclusion
Installing gutters in your home should be done by a professional. Although some homeowners believe that saving money and doing the project themselves is a good idea, too many things can go wrong. Hire a professional gutter installation company that has experience measuring and cutting the correct gutter sizes. Also, call on your local home inspection team for a full roof inspection and home inspection before installing a new gutter system. Reach out to Edifice Inspections in Peachtree Corners, GA for a full home inspection with thermal imaging.